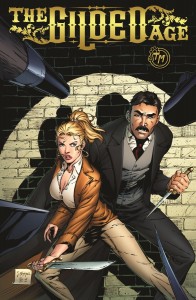 I'm currently running a promotion where the first issue of my Steampunk Comic: The Gilded Age is free to download.
https://www.instafreebie.com/free/2V0z3
or if you are already a member of Noisetrade you can find it here:
http://books.noisetrade.com/johnmcguire/the-gilded-age-1
The only thing you'll need to do is provide your email address.
A little about The Gilded Age:
Welcome to the world of The Gilded Age.
1877. The full dawn of Industrial Revolution has collided with the twilight of the age of magic and alchemy, leading to a most curious progeny: self-aware clockwork men. Man-made machines, with clockwork gears and steam-powered joints, serve man even as the followers of the old ways continue to nurse growing resentment of these new creations.
Trying to find its own way in this world, the Branning Troupe, made up of actors and carnival folk, moves throughout Europe performing its acts night in and night out. For some, the Troupe offers a direction to their lives; others seek the adoration of the crowds. For all, it represents a fragile, simple refuge from a world which has cast them out. They are a new family. And each member has their own desires and secrets…
Each issue of The Gilded Age is a complete story ("Done in One") focusing on different members of the Branning Troupe. This allows for a wide variety of stories to be told: heists, western, horror, and fantasy.
And there is also now a Facebook site for all things Gilded Age: