On Sale: December 7, 2015
Pages 257 | ASIN: B018OU259G

22 Sci-fi, Fantasy, and Modern Short Stories by: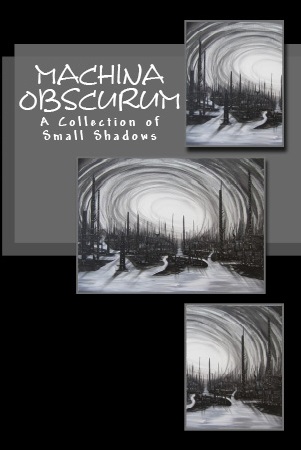 J Edward Neill, River Fairchild, John McGuire, Chad J Shonk, JL Clayton, Phil Elmore, Roy T Dodd, Robert Jeffrey II, and F Charles Murdock.
Machina Obscurum contains twenty-two short tales by nine masters of fiction. Within these pages lie stories of men and monsters, of lonely souls and far-distant places. No matter what whets your appetite: sci-fi, horror, fantasy, or hard, dark realistic fiction, A Collection of Small Shadows has it all.
…and more.
I have 2 Short Stories in it:
Til the Last Candle Flickers and And I Feel Fine
And an excerpt from The Dark That Follows.
Check it out here (for FREE): Amazon
Or if you prefer the feel of an actual book in your hands, you may purchase it here: Amazon